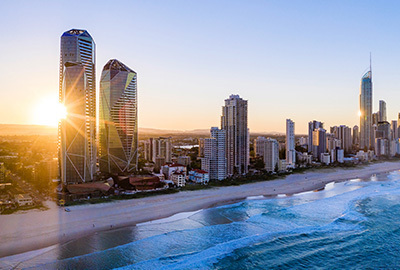 2011 - The 17th Annual PRRES Conference in Gold Coast, Australia
Climate Change and Property: its impact now and later
January 16 - 19, 2011
Bond University's Institute of Sustainable Development & Architecture
Conference Summary
Bond University's Institute of Sustainable Development & Architecture was delighted to host the three-day 17th Pacific Rim Real Estate Society Conference on the Gold Coast with the support of Queensland University of Technology and the University of the Sunshine Coast in January this year. With the theme 'Climate Change and Property: its impact now and later' the conference was among the one of the most successful conferences with 165 delegates attending the main conference that included 110 delegates attending the Welcome Reception and 140 delegates enjoying the conference dinner.
Opened by Prof Robert Stable, Bond University Vice Chancellor & President the conference highlighted different aspects of the main conference theme of Climate Change and Property: its impact now and later with 116 thought-provoking academic paper presentations. These included Climate Change and Environmental Issues, Energy Efficiency and Property, Sustainability and the Built Environment, Specialist Property, Housing Markets and Housing Affordability, Commercial Property & Valuation, Property Management & CRE, Property Market Analysis, Property Rights/Legislation and Property Issues, Development, Education, Finance and Investment, and Legislation and Legal, Rural Issues.
Inspiring keynote presentations were delivered by Meg McDonald-CEO Carbon Trust Australia, Prof George Earl-Bond University's Institute of Sustainable Development & Architecture, Govindan Nair-Lead Economist The World Bank (retired) and President of Hemispheres Solutions LLC USA, The Hon Tom Roper-President The Australian Sustainable Built Environment Council, Brian Stewart-CEO & General Council Urban Development institute of Australia, Stephen Butler-National Engineering & Operations Manager Mirvac, Prof Philip Follent-Head of School Soheil Abedian School of Architecture Bond University, Prof Brian (Tony) Ciochetti-Thomas G. Eastman Chair and Chairman Center for Real Estate Massachusetts institute of Technology, Prof Mike Hefferan-State President QLD Division Property Council of Australia.
Additional conference events included the PhD Colloquium with 35 people in attendance (24 PhD presenting students, 19 observers), the 3rd Case Competition with 6 Teams competing including Bond University's Institute of Sustainable Development & Architecture, Queensland University of Technology, The University of Auckland, University of South Australia, University of Southern California, University of the Sunshine Coast with The being awarded first place for 2011, congratulations.
For 2011, Industry Day had two themes, with the morning session providing presentations by international and local speakers on issues of Sustainable Development and Real Estate. The speakers included:
Prof Tony Ciochetti, the Thomas G Eastman Chair & Chairman of the Center for Real Estate at the Massachusetts Institute of Technology (MIT) in the USA,

Steven Butler , National Engineering & Operations Manager, Mirvac,

Dr George Quezada and Ass Prof Andrew Wilford, Bond University Institute of Sustainable Development and Architecture,

Prof Phillip Follent, Head Soheil Abedian School of Architecture, Bond University of Sustainable Development & Architecture.
The afternoon session provided a panel discussion addressing the proposition that industry players and peak bodies often suggest the academic research is irrelevant. The question posed was "What Makes quality research industry relevant?" One of the major conclusions from the floor was that in order that academic research becomes more relevant it must be more inter disciplinary.
The panel was comprised of; Prof George Earl, Director of the Institute of Sustainable Development & Architecture (Facilitator) Brian Stewart, COE UDIA Queensland Prof Mike Hefferan, State president of the Queensland API
Over 15 countries were represented at this year's conference with delegates attending from the United Kingdom, United States of America, New Zealand, Germany, Finland, Slovakia, Singapore, Thailand, Malaysia, Taiwan, Hong Kong, Fiji and all states of Australia.
Conference sponsors included the Australian Property Institute – QLD Division who kindly contributed to the success of the Welcome Reception held at the Institute of Sustainable Development & Architecture, along with the support of PRRES Society Inc sponsors: Australian Property Institute [API], Estate Master Property Software and Royal Institution of Chartered Surveyors [RICS].
Potential Topics
Housing Economics and Policy; Green Buildings & Environmental Policies; Impact of pandemics upon the built environment; Corporate Real Estate; Asset, Property & Facility Management; IT and Real Estate; International Real Estate; Marketing & Communication in Property; Market Research, Analysis &Forecasting; PPF, PPP & Infrastructures; Performance and Risk Management; Property Development; Property & Urban Economics; Real Estate Finance & Investment; Property Education; Property Valuation; Real Estate Portfolio Management; Tax and Legal Issues in Property; Special Interest Topics - Big Data, PropTech, the Ageing Population; Other topics broadly synergising with the property discipline will be considered.
Peer Review
PRRES 2011 is offering double blind review of full papers. These papers will be published on the PRRES Inc. website
Thank you to our conference organisers
Proceedings from the 17th Annual Conference PRRES Conference
Delegate Papers
Papers shown as "refereed" have been refereed through a peer review process involving an expert international board of referees headed by Dr Dulani Halvitigala. Full papers were refereed with authors being required to make any changes prior to presentation at the conference and subsequent publication as a refereed paper in these proceedings. Non-refereed presentations may be presented at the conference without a full paper and hence not all non-refereed presentations and/or papers appear in these proceedings. All authors retain the copyright in their individual papers.
Meg McDonald
CEO Carbon Trust Australia
Prof George Earl
Bond University's Institute of Sustainable Development & Architecture
Govindan Nair
Lead Economist The World Bank (retired) and President of Hemispheres Solutions LLC USA
The Hon Tom Roper
President The Australian Sustainable Built Environment Council
Brian Stewart
CEO & General Council Urban Development institute of Australia
Stephen Butler
National Engineering & Operations Manager Mirvac
Prof Philip Follent
Head of School Soheil Abedian School of Architecture Bond University
Prof Brian (Tony) Ciochetti
Thomas G. Eastman
Chair and Chairman Center for Real Estate Massachusetts institute of Technology
Prof Mike Hefferan
State President QLD Division Property Council of Australia