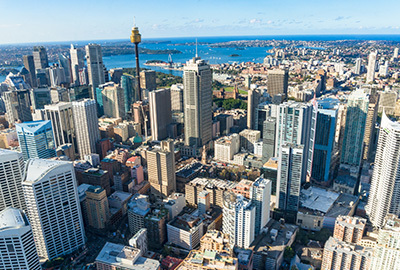 2000 - The 6th Annual PRRES Conference in Sydney, Australia
January 23 - 27, 2000
University of Technology Sydney, Sydney, Australia
Conference Summary
The 6th Pacific Rim Real Estate Society Conference was held in Sydney, Australia. This year is a special year for PRRES as it marks the tenth anniversary of the founding meeting in Christchurch of our predecessor, the Australasian Real Estate Educators conference. Over the past years PRRES has continued to grow and indeed contributed to making the land economics/property discipline recognised as a distinct body of knowledge.
Potential Topics
The conferences have allowed academics and researchers to present and discuss papers on their research and to keep abreast of the rapidly changing technology. The introduction of refereed papers has been responsible for a high standard of papers.
PRRES plays a major role in the continued development of the "international property community". PRRES, along with the American (ARES), European (ERES), Asian (AsRES), African (AfRES) and Latin American (LARES) Real Estate Societies form the network structure for the International Real Estate Society (1RES) to further develop international property research and education.
Over 80 papers were presented at this conference from all areas of property research. Presenters are truly international, with papers being presented from Australia, New Zealand, Fiji, Papua New Guinea, Malaysia, China, USA, UK, Sweden, Germany, Netherlands, Ireland, Finland and Thailand. Approximately 30% of these papers have been fully refereed by members of the Organising Committee and are published on this web site.
Peer Review
PRRES 2000 is offering double blind review of full papers. These papers will be published on the PRRES Inc. website
Proceedings from the 6th Annual Conference PRRES Conference
Delegate Papers
Papers shown as "refereed" have been refereed through a peer review process involving an expert international board of referees headed by Dr Dulani Halvitigala. Full papers were refereed with authors being required to make any changes prior to presentation at the conference and subsequent publication as a refereed paper in these proceedings. Non-refereed presentations may be presented at the conference without a full paper and hence not all non-refereed presentations and/or papers appear in these proceedings. All authors retain the copyright in their individual papers.
PROFESSOR NEIL CROSBY: FUTURE DIRECTIONS AND CHALLENGES FOR VALUATION RESEARCH
Professor Neil Crosby is Professor of Land Management at the University of Reading, UK. Neil is one of the leading valuation researchers and has published extensively in the Journal of Property Research, Journal of Property Valuation and Investment, and Australian Land Economics Review. His main research areas are property valuation, valuation methodology and the quality of valuation reports.
Neil is actively involved in the RICS and is a member of a number of editorial boards and leading UK property journals. Neil is a regular visitor to Australia and has recently done research on a range of valuation issues in Australia.
DR DAVID PARKER: AN INSTITUTIONAL PERSPECTIVE ON PROPERTY RESEARCH
David Parker is Property Portfolio Manager for Suncorp-Metway in Bisbane. David has extensive experience in all aspects of institutional property and asset management, having previously been with the Schroders Property Fund, Axiom Funds Management and ANZ Funds Management.
David obtained his PhD from UTS, one of the first PhDs in property in Australia. David has also published in the leading property journals including the Journal of Property Research, Journal of Property Investment and Finance, The Appraisal Journal and the Journal of Real Estate Literature, as well as being on a number of editorial boards in Australia and the UK.
David has received a number of major property awards and grants, including six prestigious awards from the Australian Property Institute (3), Property Council of Australia (2) and the Royal Institution of Chartered Surveyors (1)