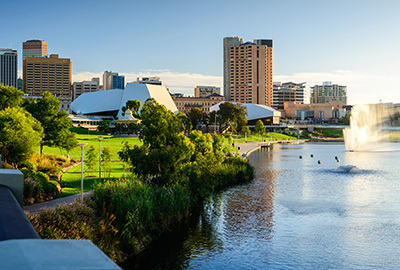 2012 - The 18th Annual PRRES Conference in Adelaide, Australia
Property: Nexus of Place & Space
January 15 - 18, 2012
Hawke Building, University of South Australia
Conference Summary
The University of South Australia's Property Team hosted the 18th Pacific Rim Real Estate Conference In Adelaide from the 14th to 18th of January 2012. The conference theme of Property: Nexus of Place & Space was timely as people begin to understand that property finance and economics on their own do not ensure projects succeed. Projects need people to commit, use and enjoy the development in order to succeed. The conference keynote speakers were mainly industry practitioners who spoke to the theme. These included Andrew McAnulty CEO Mission Australia, Gilbert Rochecouste Managing Director Village Well, Natalya Boujenko Director Intermethod, Timothy Horton is the South Australian Commissioner for Integrated Design, Martin Haese General Manager of the Rundle Mall Management Authority (RMMA) and David Smith Director Residential Energy Efficiency Team Renewable and Energy Efficiency Division DCCEE. Our keynote academic on the topic was Professor Stanley McGreal Director of the Built Environment Research Institute University of Ulster.
Many of the papers and presentations built on from last year's conference theme of sustainability. In order to accommodate the 140 papers submitted from 170 delegates from fifteen countries there was up to five parallel sessions through conference which offer red delegates ample choice in terms of topics and special interests.
The social aspects of the conference were varied this year to include two innovations that hopefully other will consider including in future conferences. First there was an informal BBQ on Saturday night to encourage delegates to attend the PhD colloquia and ensure that the new PhD students were welcomed before presenting on Sunday. The second innovation was a Tasting SA event in which delegates were able to taste local South Australian cordials, meats, seafood and fruits and other local produce. South Australian beer, wine and cheese were also available for tasting.
Prior to the conference dinner, delegates had the opportunity to have pre-dinner canapés and drinks with Pandas at the Adelaide zoo and learn about their diet, mating habits and other factors with a presentation from a Panda keeper. The conference dinner was held in the zoo with delegates able to view some of the animals from their tables.
Valerie Kupke hosted the woman's breakfast which made a return to this conference after a few years absence. The API met with course directors for a breakfast meeting this year rather than during a lunch time.
This conference case competition brought six teams of undergraduate's student to the conference These included University of Auckland , Bond University, Curtin University, University of South Australia, University of Southern California and University of the Sunshine Coast. The competition involves teams of 4 members each who are provided with a real-life real estate related case study. The teams have 5 hours to carry out an in depth analysis and prepare a proposal addressing the key issues of the business. Each team then makes a presentation on their strategy and is given the opportunity to answer and defend themselves during question time with a judging panel of academic and industry practitioners.
This Conference would not have gone ahead without the efforts of Peter Rossini, Valerie Kupke and Sharon Yam who covered the convenors absences for leave and long service leave. I would like to thank these people and the many other volunteers led by Peta Page & Vanessa Lowe who helped in planning and making the day to day running of the conference a success.
The conference sponsors ensured that the conference was successful. Conference sponsors included the University of South Australia's School of Commerce, Property Council of Australia (SA Division), Department of Transport, Energy & Infrastructure, Government of South Australia , RICS, API, Estate Master, Gooseberry Hill Farm and Toop & Toop .
Potential Topics
Housing Economics and Policy; Green Buildings & Environmental Policies; Impact of pandemics upon the built environment; Corporate Real Estate; Asset, Property & Facility Management; IT and Real Estate; International Real Estate; Marketing & Communication in Property; Market Research, Analysis &Forecasting; PPF, PPP & Infrastructures; Performance and Risk Management; Property Development; Property & Urban Economics; Real Estate Finance & Investment; Property Education; Property Valuation; Real Estate Portfolio Management; Tax and Legal Issues in Property; Special Interest Topics - Big Data, PropTech, the Ageing Population; Other topics broadly synergising with the property discipline will be considered.
Peer Review
PRRES 2012 is offering double blind review of full papers. These papers will be published on the PRRES Inc. website
Thank you to our conference organisers
Conference Coordinator:
Dr Geoff Page - prres2012@prres.net
Proceedings from the 18th Annual Conference PRRES Conference
Delegate Papers
Papers shown as "refereed" have been refereed through a peer review process involving an expert international board of referees headed by Dr Dulani Halvitigala. Full papers were refereed with authors being required to make any changes prior to presentation at the conference and subsequent publication as a refereed paper in these proceedings. Non-refereed presentations may be presented at the conference without a full paper and hence not all non-refereed presentations and/or papers appear in these proceedings. All authors retain the copyright in their individual papers.

Andrew McAnulty
Andrew McANULTY CEO Mission Australia has amassed fifteen years experience with three diverse UK housing Associations and the Stonebridge housing Action Trust one of London's most successful regeneration companies. Andrew took the helm of MA Housing in November 2009 with 97 homes in management. By June 2011 the organization had grown to 1,100 homes in management and anticipates growing to 1500 homes by December 2011 and 3000 in two years. Andrew's experience will highlight the innovation and vision required to create cutting edge outcomes for projects which link Government, the private sector and the community housing sector – in order to actually deliver high quality affordable housing.

Natalya Boujenko
Natalya BOUJENKO Director Intermethod is a founder of Intermethod, is a strategic consultant specialising in integrated street design, city development and transport planning. Natalya's portfolio spans a vast range of local and international projects and policy work in London, Birmingham, Belfast, Adelaide, Canberra, Port Augusta and Anangu Pitjantjatjara Yankunytjatjara Lands. She has led a number of innovative projects and programmes focussed on integrating multi-modal street needs and developed bespoke methodologies in achieving 'streets for people' objectives. Natalya is currently engaged in a number of strategic street and transport studies as well as also developing a new Compendium for street design for South Australia.

Gilbert Rochecouste
Gilbert ROCHECOUSTE Managing Director Village Well is recognised both nationally and internationally as a leading voice in sustainable communities and businesses. His catalyst ideas have regenerated iconic places and enlivened many urban and rural communities. Gilbert has worked with hundreds of main streets and businesses over the past two decades to create more vibrant, connected and resilient communities. He is one of the world's leading placemaking practitioners and passionately promotes living, playing and working in ways which support the cultural, social and environmental elements that are unique to each place. As one of the first Al Gore Climate Leaders, he sees the potential of placemaking to inspire a deeper environmental awareness and stewardship where people can make a difference both locally and globally.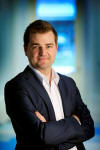 Timothy Horton
Timothy Horton is the South Australian Commissioner for Integrated Design, providing independent advice to the Premier and Cabinet. The Integrated Design Commission is Australia's first state level multidisciplinary design, cross-government advisory team. Timothy is an award winning architect and urban designer, with experience spanning the public and private sector in Australia and internationally. Common throughout has been a deep interest in civic space and the role for design in shaping human-centred urban policy. He has held positions as state President of the Australian Institute of Architects, has acted as a member of the editorial board for the Australian Urban Design Protocol and is currently a Board member of South Australia's leading craft and design body, the Jam Factory.

Martin Haese
Martin HAESE is presently General Manager of the Rundle Mall Management Authority (RMMA) and as Founder and Managing Director of Retail IQ has worked nationally and internationally as a retail advisor. Martin is a retail entrepreneur, retail thought leader and widely recognised champion of the retail industry. In 2010 the RMMA engaged Retail IQ to assist with the revitalization of the Rundle Mall precinct in Adelaide. Rundle Mall is the retailing heart of South Australia and is home to 700 retail stores, 200 serviced based businesses, 15 unique arcades and SA's largest 3 department stores. It attracts in excess of 23 million pedestrian visitations per annum and remains the most concentrated place for pedestrian traffic in SA. Martin will be sharing the bold, innovative and purposeful steps that he has taken with Rundle Mall and how those strategies are transforming the precinct and stimulating property development, public engagement and greater retail market share.

David Smith
David SMITH Director Residential Energy Efficiency Team Renewable and Energy Efficiency Division DCCEE Canberra will speak on Building sustainability assessment and mandatory disclosure regulations.
Professor Stanley McGreal
Professor Stanley MCGREAL Director of the Built Environment Research Institute University of Ulster has researched widely into issues relating to housing, urban development and regeneration, planning, globalisation, property market performance, and investment. Professor McGreal has been involved in major research contracts funded by government departments and agencies, research councils, charities and the private sector. Analysis of housing, urban renewal strategies and regeneration outputs in the property sector and the investment market have been a central theme of this research with particular implications for policy.