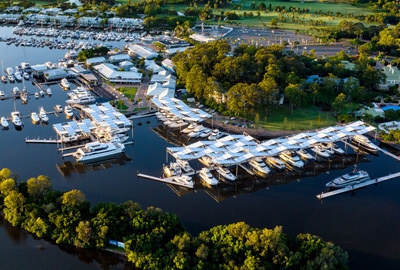 1996 - The 2nd Annual PRRES Conference in Sanctuary Cove, Queensland
January 21 - 24, 1996
Hyatt Regency, Sanctuary Cove, Queensland
Conference Summary
The 1996 Pacific Rim Real Estate conference was jointly hosted by Queensland University of Technology and the University of Queensland, Gatton College at the luxurious Hyatt Regency, Sanctuary Cove. The three day conference provided real estate academics and practitioners from the ten membership countries the opportunity to present the results of their research and establish important links for the exchange of information and ideas.
Potential Topics
The conference was organised into three parallel sessions as in previous years to permit presentation of the large number of papers. Session topics covered a broad spectrum of property related issues including: statistics and forecasting; investment strategy; education; housing; land ownership and valuation process and policy. Keynote addresses were provided by Professor Robert Stimson, Urban Studies, Queensland University of Technology who spoke about urban planning and design and Professor Gerald Brown, University of Salford, UK.
In 1996 all the New Zealand Universities were well represented with a number of staff attending and presenting papers. Those from Massey University, for example, and the papers they presented included: Bob Hargreaves "Forecasting Real Estate Market Behaviour"; Graham Crews "Real Estate Education: What's in it for Real Estate Salespeople?"; Iona McCarthy "Women in the New Zealand Property Industry"; Judith Callanan "The Establishment of a House Boat Leasing Operation in New Zealand"; and Sandy Bond
The Annual General Meeting on the Tuesday afternoon provided the opportunity to reflect on the years significant achievements including: the development of the PRRES information brochure; installation of the PRRES home page on the World Wide Web; and the introduction of the PRRES achievement award. This latter award was presented at the AGM to the worthy recipient, Bill Cleghorn, one of the original founders of the society who has contributed a tremendous amount of time and energy to establishing and developing the society.
Other matters arising at the AGM included the selection of the future conference venues: 1997, Massey University; 1998, Curtin University; and 1999, Malaysia was tentatively agreed upon. Such future conferences are to have both a refereed and non-refereed section to provide those presenting papers with the opportunity for more formal recognition of their efforts.
The meeting concluded with the Property Education Forum, a panel of property education experts from a number of the membership countries who presented an overview of the current affairs and issues in property education within their respective regions. Of particular interest is the recognition by the Australian Institute of Valuers and Land Economists of plant and machinery valuers in a new category of membership; the new real estate course to be offered at Massey University's Albany Campus; a new Postgraduate
Another enjoyable conference in a world-class setting thanks to the hosts George Earl and Graham Kroll.
Sandy Bond (President)
Peer Review
PRRES 1996 is offering double blind review of full papers. These papers will be published on the PRRES Inc. website
Thank you to our conference organisers
Proceedings from the 2nd Annual Conference PRRES Conference
Delegate Papers
Papers shown as "refereed" have been refereed through a peer review process involving an expert international board of referees headed by Dr Dulani Halvitigala. Full papers were refereed with authors being required to make any changes prior to presentation at the conference and subsequent publication as a refereed paper in these proceedings. Non-refereed presentations may be presented at the conference without a full paper and hence not all non-refereed presentations and/or papers appear in these proceedings. All authors retain the copyright in their individual papers.
You have no files available.
Professor Robert Stimson
Professor Robert Stimson, Urban Studies, Queensland University of Technology who spoke about urban planning and design
Professor Gerald Brown
Professor Gerald Brown, University of Salford, UK.