PRRES Achievement Award
Greg Costello - 2013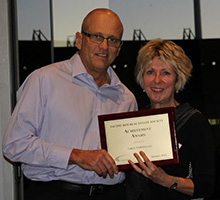 The 2013 PRRES Achievement Award was presented to Associate Professor Greg Costello from the Curtin University for his outstanding contribution to PRRES. Greg has been an outstanding property academic at all levels for many years, with his outstanding leadership role at Curtin, leadership withing PRRES and international reputation. The calibre of his research into housing issues has been outstanding; with coverage across major journals ;eg: Urban Studies, Housing Studies, Journal of Banking and Finance....a wonderful research profile. This is supported by research grants from AHURI etc.
His role within PRRES for many years has been outstanding with very positive outcomes; he has been PRRES President ,as well as actively contributing in PRRES conference organisation and in guest editor/editorial board roles with PRPRJ.
Greg has brought great credit to the property programs at Curtin and to PRRES, with his leadership and reputation internationally. He has also been very supportive of new property academics in these various roles.