PRRES Achievement Award
Deborah Levy - 2011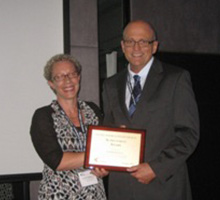 The 2011 PRRES Achievement Award was presented to Associate Professor Deborah Levy from the University of Auckland for her outstanding contribution to scholarly research, property education and interaction with the property industry.
Dr Levy's research into the behavioural aspects of property is world leading, being widely published and having won numerous best paper awards.
Dr Levy has been involved in property education for almost 25 years with a demonstrated commitment to excellence in teaching and learning, focusing on encouraging students to think creatively and become effective problem solvers and decision makers. In recognition of her contribution to property education,
Dr Levy received the University of Auckland distinguished teaching award in 2000 and both the Deans Award and the Property Institute of New Zealand Academic Award in 2006. As a practitioner, Dr Levy has developed a close working relationship between the University of Auckland and the New Zealand property profession, including both the Royal Institution of Chartered Surveyors and the Property Institute of New Zealand of which she is a Fellow and past National Councillor.
Dr Levy has been an active member of PRRES for over a decade, being President in 2008, Conference Program Chair in 2006 and initiated the inclusion of the highly successful Case Competition in the Conference program.