PRRES Achievement Award
John MacFarlane - 2009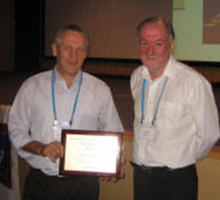 John MacFarlane has made an outstanding contribution to PRRES since it was established and has been actively involved in a wide range of leadership roles in PRRES. In particular:
He was PRRES President in 2006
He has been PRRES Treasurer for many years
He has been on the PRRES board for many years
He has been on the editorial board for PRPRJ for many years.
John's role has been fundamental in the development of PRRES and seeing PRRES increase its membership base in recent years.
John has attended every PRRES conference since PRRES (and its predecessor) was established in 1989; eighteen in total. During this time, he has had an active property research agenda in the areas of property forecasting and mass valuations; presenting numerous research papers at the PRRES conference and publishing widely in PRPRJ, JREPM, JPR and JPIF. John has also been an active supporter of the other regional real estate societies; being a regular attender at ARES and ERES conferences.
John has taught the property students at UWS for over 25 years, as well as being actively involved with the API via his role in the high profile property forecasting survey conducted over the last 10 years.
John has been an outstanding supporter and leader within PRRES. He has done this role in a quiet but confident and focused manner.
We are pleased to announce John MacFarlane as the recipient of the 2009 PRRES Achievement Award.
John MacFarlane Achievements
Associate Professor, University of Western Sydney
PRRES President (2006)
PRRES Treasurer (many years)
PRRES Board member (many years)
PRRES editorial board member (many years)
Fellow, API
Research publications: PRPRJ, JREPM, JPR and JPIF
Research grants: PCA, VGs