PRRES Achievement Award
Anthony Walker - 1997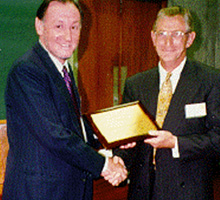 The Pacific Rim Real Estate Society (PRRES) is proud to acknowledge Professor Anthony Walker as the 1997 recipient of the PRRES Achievement Award.
Tony (on the right) is presented with the Award by Associate Professor Graeme Newell.
This is the highest honour that PRRES can bestow on one of its members and is in recognition of the outstanding contribution by Anthony Walker to property education and research in the Pacific-Rim, particularly in Hong Kong and China.
Since joining the Department of Surveying at the University of Hong Kong in 1985, Tony has actively lead the development of the property team at the University of Hong Kong. It is now the leading provider of property education and research in the region, with a major international education and research reputation.
Tony is the world's leading academic on Chinese property markets, having published over 50 papers in leading USA, UK and Asian journals on this and other areas of property research, as well as having published twelve books on property and construction in Hong Kong, China and Asia. He is also on the editorial board for six leading refereed property journals in the USA, UK and Asia.
While at the University of Hong Kong, Tony has placed a high priority on developing the property academic careers of many of his colleagues, both in supervising their research degrees and mentoring their university careers. Key players in the department such as Chau Kwong Wing, Li Ling Hin and K.C. Wong have been strongly supported and influenced by Tony throughout their property careers.
Tony has also been actively involved in various government committees and advisory decision making bodies regarding land usage in Hong Kong; particularly the Hong Kong Town Planning Board. In doing so, Tony has helped shape the face of urban development of Hong Kong.
Tony's involvement with PRRES has been extensive, having been a founding director of PRRES in 1995. Throughout, Tony has strongly contributed to PRRES by supporting the active involvement of property academics in China and Hong Kong into PRRES to participate in the regional property research community.
Given Tony's vision, leadership and international property research reputation, PRRES is pleased to award the PRRES Achievement Award to Professor Anthony Walker in recognition of his many outstanding achievements in property education and research.
Graeme Newell
President, PRRES
January 1997